Ambu's Innovation Journey

An Innovation Leader in Med-Tech

Ambu's aspiration as a global medical device company is clear: become the world's most innovative single-use endoscopy company.
That goal reflects Ambu's mission of providing customers with innovative solutions that optimize workflow and reduce cost while making a difference in patients' lives. To achieve this ambition we have ramped up new product launches and invested heavily in R&D and expanding our commercial infrastructure. We have initiated a massive hiring surge — even during a global pandemic — and plan to quadruple our new single-use endoscopy product launches in the next 3 years.
CEO Britt Meelby Jensen — who was appointed chief executive in May 2022 and brings with her a 20-year track record in the life sciences industry, plus a three-year stint on Ambu's board — has Ambu uniquely positioned to become the largest and most innovative single-use endoscopy company in med-tech.
Consider that by 2024 the market for single-use endoscopes — used once and discarded, with no need for costly capital or reprocessing investments — is poised to grow to $2.5 billion. Ambu has a 10-year head start on competitors, having introduced our first single-use bronchoscope in 2009; we're now on our 4th-generation technology platform. We have leveraged our unique technology capabilities and platforms and successfully entered new endoscopy market segments in ENT, Urology and Gastroenterology.
Ambu has built a highly efficient and scalable manufacturing platform. Combined with an innovation cadence more common to the consumer electronics industry, we are uniquely positioned to disrupt the endoscopy market in the coming years. In 2020 we sold more than 1 million single use endoscopes — more than twice the volume of our competitors. COVID-19, meanwhile, is accelerating the development of the single-use market as both healthcare professionals and patients gain new awareness of infection control and patient safety strategies.
Ambu's innovation pipeline will rapidly expand in the coming years. In the last three years we've introduced five single-use endoscopy products; that number will jump to 20 in the next 3 years. Our investments in research and development are increasing in areas such as image processing and AI. New manufacturing capacity is continuously being added; our fourth manufacturing facility is slated to be built in Mexico to support the U.S. market. The industry and market impact wrought by SARS-CoV-2 is only pushing Ambu to transform at a faster pace.
The result, executives say, will be the most innovative single-use endoscopy company with the broadest portfolio in the market.
But to see where Ambu is going, it's important to see where we've been: bringing healthcare solutions to life since 1937 from our headquarters in Denmark, based on principles of innovation, dedication and patient care.
A Journey of Innovation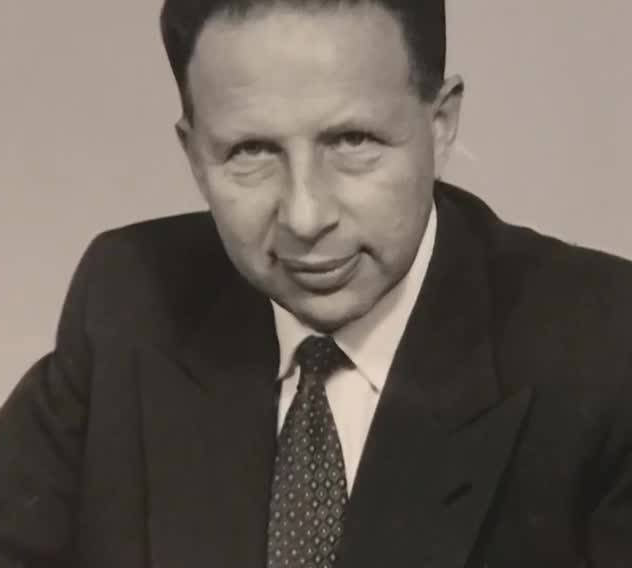 That's when a German engineer named Holger Hesse developed a hemometer giving private practitioners the ability to measure the amount of hemoglobin in the blood without having to send a sample to an outside laboratory.

It was in 1956 when Ambu, then known as Testa Laboratorium, truly gained notice for its self-inflating resuscitator. Developed by Hesse and anesthesiologist Henning Ruben, the Ambu ventilation bag would mark a major milestone in emergency medical equipment and hospital care and define the product category – indeed, the bag would become synonymous with Ambu much the way tissue paper is synonymous with Kleenex.

In 2001, we acquired Medicotest, the largest European manufacturer of electrodes. Together with the successful launch of a single-use laryngeal mask portfolio used for airway management in anesthesia, Ambu's focus shifted to the hospital acute care and advancing single-use medical devices. With the acquisition in 2013 of King Systems, a leading U.S. anesthesia company, Ambu put in place a stronger platform to grow its single-use endoscopy portfolio.

This is also when our focus began to shift more to endoscopy.

An Advanced Patient Care Platform

In 2009, we introduced the world's first single-use flexible videoscope to the market, the Ambu aScope. Although initially targeted at difficult airway management, Ambu quickly saw the potential and need for more advanced single-use flexible endoscopy products. Access to flexible bronchoscopes was severely limited in many hospitals because of the high capital, maintenance and repair costs. In addition, more complex and time-consuming reprocessing guidelines were being implemented to address increasing evidence of endoscope contamination.

With focus and dedication, we quickly iterated and improved our scope performance and in 2013 we launched the aScope 3 Broncho, which quickly gained momentum and adoption in the market. Seven years later, Ambu's fourth-generation single-use bronchoscope is used in one-third of all U.S. bronchoscopy procedures in the OR and ICU.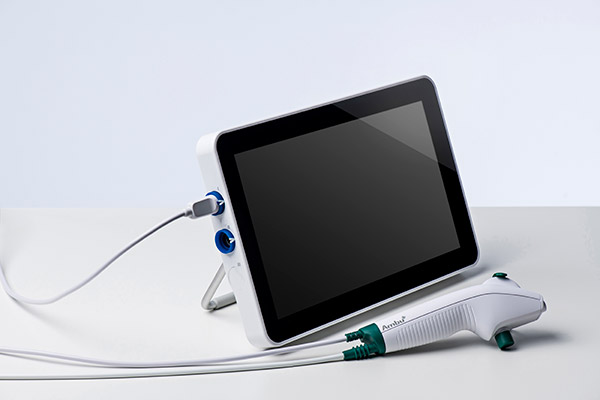 In 2018, we entered the ENT field with two rhinolaryngoscopes. In 2020, we introduced our cystoscope and duodenoscope, marking our entry into the urology and GI market segments. And the newest version of our monitor, the aView 2 Advance, made its debut – a portable, full-HD monitor with enhanced image quality, network connectivity and EMR capability.

In our 2019/2020 fiscal year, Ambu posted 26 percent organic growth driven by 81 percent growth in our Visualization business. A thousand new colleagues joined Ambu in the last year; our R&D organization almost doubled. In 2020, more than 1 million Ambu single-use endoscopes were used in more than 6,000 hospitals, making Ambu the world's largest supplier of single-use endoscopes.
Fulfilling Expectations

In the spring of 2020, as the novel coronavirus raged around the world, Ambu realized it had a responsibility – and an opportunity. Our bronchoscopes and resuscitators were needed to treat COVID-19 patients, and we would fulfill that responsibility no matter the roadblocks. The opportunity? To have Ambu employees around the world remember and celebrate the values upon which our company was founded.

An emergency plan was implemented to get our products to patients where they were needed most. We used air freight as our primary transportation mode as timing was critical. Manufacturing capacity was expanded in China, Malaysia and the U.S. Shut out of hospitals and private practices, our sales reps and clinical trainers gained insights into their customers' critical needs while socially distanced.

That commitment continues — and is gaining notice. Global consulting firm Frost & Sullivan named Ambu the winner of its Global New Product Innovation Award in the advanced visualization market. We were selected for our work in single-use endoscopy creating an innovation paradigm shift by rapidly bringing new technologies and products to market in shorter life cycles.

Pavel Zhebrouski, a Frost & Sullivan research analyst, called us "the most innovative single-use endoscopy player in the market."

"We are committed to doing everything we can to fulfill our responsibility and make difference," Gonzalez says. "That is what Holger Hesse would have expected from us."
Single-Use Endoscopy
Check out the latest in endoscopy research and best practices at this learning center by Ambu USA.