Ambu Awarded for Excellence in Product Design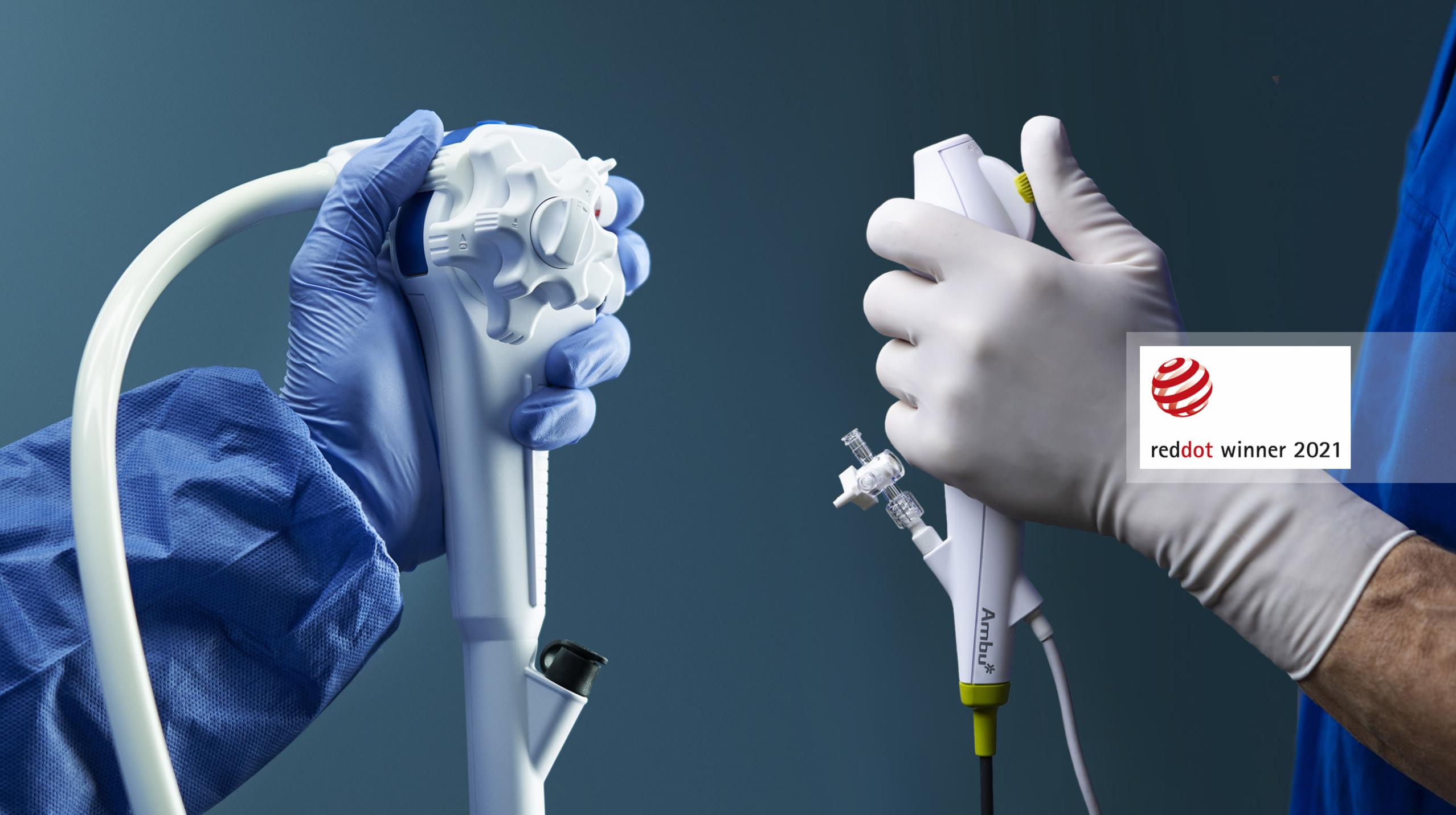 April 14, 2021

Two latest single-use endoscopes win Red Dot design awards.
The winners of the 'Red Dot Award: Product Design 2021' have been announced, and Ambu is a double winner with awards for the company's cystoscope and duodenoscope – both single-use endoscopes.
The awards reflect Ambu's strategy as a key innovator within medical devices, said CEO Juan Jose Gonzalez: "Our ambition is to remain the most innovative developer of single-use endoscopes, and the fact that our two latest devices are now Red Dot winners is recognition of our focus on quality product design. The teams here at Ambu are immensely proud of the double win."
Designed for quality in single-use
The winning products – Ambu® aScope™ 4 Cysto and Ambu® aScope™ Duodeno – were both launched in 2020 and are used for medical procedures in the urinary tract and the gastrointestinal system, respectively. Both devices are designed for single-use because it eliminates the risk of infection and the need for reprocessing of scopes – cutting healthcare costs and freeing staff from exposure to chemicals during reprocessing.
Both products are awarded the distinction of Red Dot, and in addition, the Ambu® aScope™ Duodeno won an award in the 'Innovative Products' category, meaning that the jury members recognised the product's novel features in particular.
A prestigious award
The Red Dot Award: Product Design recognises the best products for a given year. The international jury comprises roughly 50 specialists from a wide variety of sectors. They scrutinised the products entered in the competition over several days and were guided by assessment criteria such as the product's formal quality, ergonomics and longevity.
"The winners of the Red Dot Award: Product Design 2021 were particularly impressive this year. The design of their products is excellent, in terms of both the aesthetics and the functionality. It's not easy to prevail in such a strong field of competitors and to win over our jury. Consequently, I want to congratulate the laureates very sincerely on their success," said Professor Dr. Peter Zec, founder and CEO of Red Dot.
Online and physical exhibitions in June
Ambu's two winning products can be seen in the online exhibition on the Red Dot website from 21 June 2021. That date also marks the beginning of the Red Dot Design Week, during which this year's award winners will be celebrated online.
In addition, Ambu® aScope™ 4 Cysto and Ambu® aScope™ Duodeno will be included in the exhibition "Design on Stage" in the Red Dot Design Museum Essen in Germany, where all of the award-winning products are showcased.
The Ambu® aScope™ Duodeno was cleared by the FDA in 2020 and is currently marketed in the USA.