Ambu® AuraStraight™ Disposable Laryngeal Mask
Ambu AuraStraight provides users with an even greater choice and an alternative to the already popular AuraOnce curved laryngeal mask for use both in anesthesia and emergency medicine. Ambu AuraStraight comes in a full range of 8 sizes from neonate to large adult.
Key features
check Cuff and airway tube molded as single unit for extra safety - no separation
check The surface has an EasyGlide texture to ease insertion
check Extra soft cuff ensures the best possible seal with least possible mucosal pressure
check Less invasive than endotracheal tube
check Pilot balloon identifies mask size and provides precise tactile indication of degree of inflation
check Convenient depth marks for monitoring correct position of the mask
check Packaged sterile and ready for use
checkColor coded pouch with directions for use
checkAvailable in 8 sizes fitting a wide range of patients
checkMRI safe and compatible
checkThe product does not contain natural rubber latex
New phthalate-free version
Ambu is currently introducing an updated version of this product. Using the same design, we are now able to deliver high quality phthalate-free material products.
As we switch from old to new version of the product, you may receive both versions. To learn whether a product is old or new version, please refer to the label of the product. If you find the below symbol on the label, then you have already received the new version.
Symbol on the new phthalate-free product:
Specifications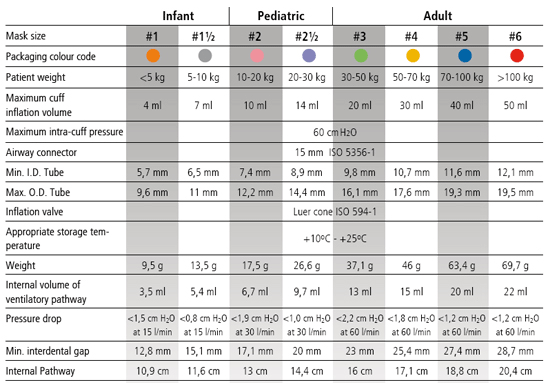 Spare parts
There are no spare parts or accessories for this product.
Downloads
Brochures
Datasheets
Supplementary Information