A Single-Use Solution for Critical Care. We've Got You Covered.
Building on more than a decade of single-use bronchoscopy innovation, Ambu is the only medical device provider placing a reliable, sterile, portable and cost-effective flexible endoscopy solution in your hands — both a basic and advanced bronchoscope for ICU and critical care procedures as well as a patented, integrated closed-loop BAL sampling system.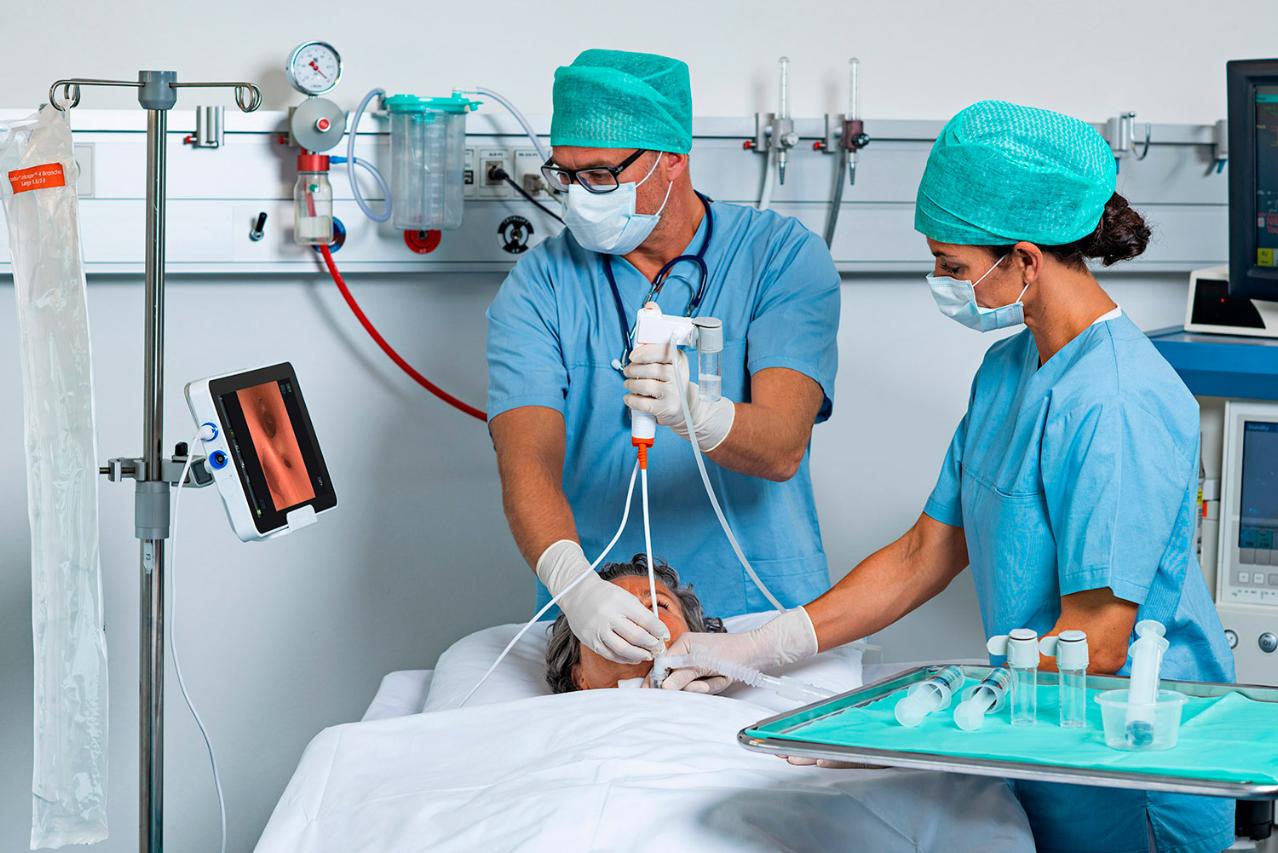 Need a Bronchoscope for Basic Procedures?
Airway inspection

BAL/BW

Flexible Bronchoscopic Intubation

Therapeutic Aspiration
"In this single center study, the Olympus H-SteriScope and Ambu aScope 4 single-use bronchoscope had a higher perceived maneuverability and were better able to engage difficult airway segments than other single-use bronchoscopes." 1

1 American Journal of Respiratory and Critical Care Medicine
Operator Perception of the Ability of Multiple Single-Use Bronchoscopes to Engage Difficult Airway Segments,
G. Senyei, D. Nettlow, A. Husain, M. Nobari, R. Miller, G.Z. Cheng
Performing Advanced Critical Care Procedures?
Percutaneous Tracheostomy

Hemoptysis

Cryotherapy

Transbronchial Biopsy

Foreign Body Removal
"Among the single use flexible bronchoscopes, the Ambu aScope 5 was either superior or equivalent to the reusable flexible bronchoscope, in the most categories."

A Comparison of Single-Use Bronchoscopes and Reusable Bronchoscopes for Interventional Pulmonology Applications
J. Kurman, A. Wagh, B. Benn, S. Islam
"Single-use bronchoscopy helps me arrange the workflow better."
Dr. Suchitra Pilli, interventional pulmonologist, assistant professor Creighton University School of Medicine, discusses the efficiency of Ambu's single-use bronchoscopy solutions when compared to reusable bronchoscopes.
"The A5 has really become my default when I'm doing endobronchial valve cases."
Do reusable bronchoscopes perform better than their single-use counterparts? That's been the conventional wisdom in interventional pulmonology — but new research debunks that myth. Dr. Jonathan Kurman, an Interventional Pulmonologist, discusses his findings.
Reinventing BAL Procedure Sampling
Ambu designed the patented, BronchoSampler to offer an improved method to perform BAL sampling compared to traditional methods. The innovative sampler solution clicks onto the aScope bronchoscope forming a tightly sealed unit that protects both staff and patients. No mess, no fuss— and can be administered by just one healthcare professional.