When Ambu introduced the world's first flexible single-use bronchoscope 12 years ago, it raised the bar for new possibilities. Now, with the launch of the 5th generation aScope™ Broncho, Ambu takes single-use bronchoscopy to even greater heights with uses in diagnostic, therapeutic, and interventional procedures.
A NEW STANDARD FOR SINGLE-USE BRONCHOSCOPES
aScope 5 Broncho is Ambu's latest generation bronchoscope - high performance functionality combined with the incredible advantages of single-use. A bronchoscope designed to perform the wide array of diagnostic, interventional and therapeutic procedures crucial for pulmonology without the expense and downtime associated with reusables. It is compatible with the full-HD Ambu® aBox™ 2 display and processing unit, for crisp, clear video images for every procedure.

aScope 5 Broncho builds on over a decade of single-use expertise, resulting in exceptional imaging, excellent maneuverability and a smart, functional design.

The high-level performance is complemented by the sterility and efficiency of the Ambu single-use solution, to provide the quality and flexibility you need for the demanding workflow of the bronchoscopy suite.
Bright and clear view
Advanced processing helps ensure continuous image optimization. The 120° field-of-view and 3-100 mm depth-of-field HD system, with advanced adaptive auto control, gives you the bright, clear image you need.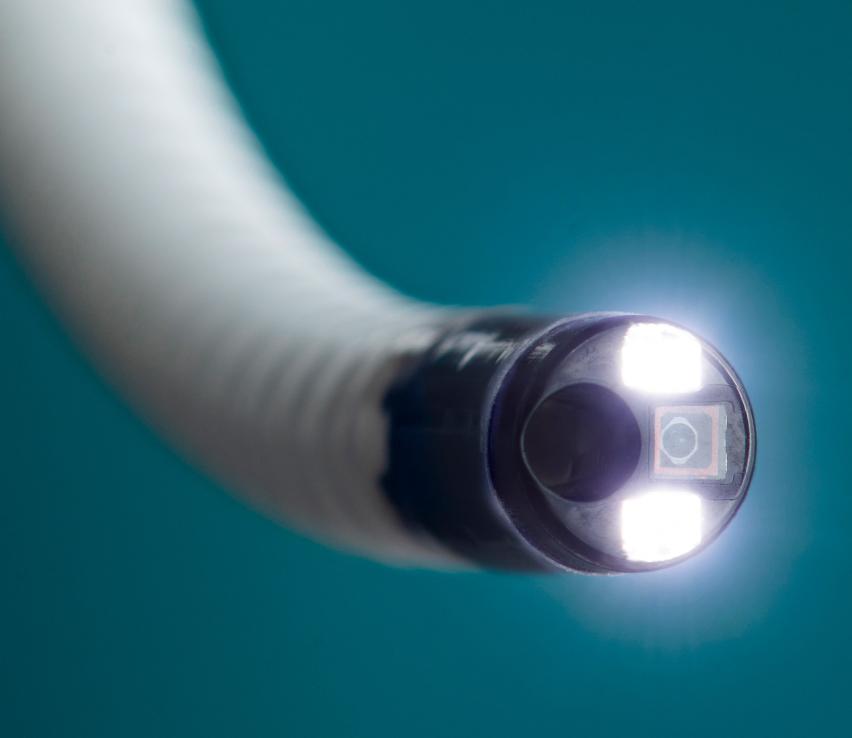 Excellent maneuverability
The combination of bending angles, distal tip angulation (195°/195° up/down bending angles), and the flexibility of the insertion tube enables you to access difficult-to-reach areas in the bronchial tree. The maneuverability is further enhanced by 120° left/right rotation. This function enables you to adjust the position of the distal end to ease navigation and insertion of endotherapy instruments.
Broad endotherapy instrument compatibility
aScope 5 Broncho is compatible with the most common endotherapy instruments used for diagnostic and therapeutic procedures in the bronchoscopy suite, such as biopsy forceps, cytology brushes, biopsy needles, cryoprobes, and high-frequency tools.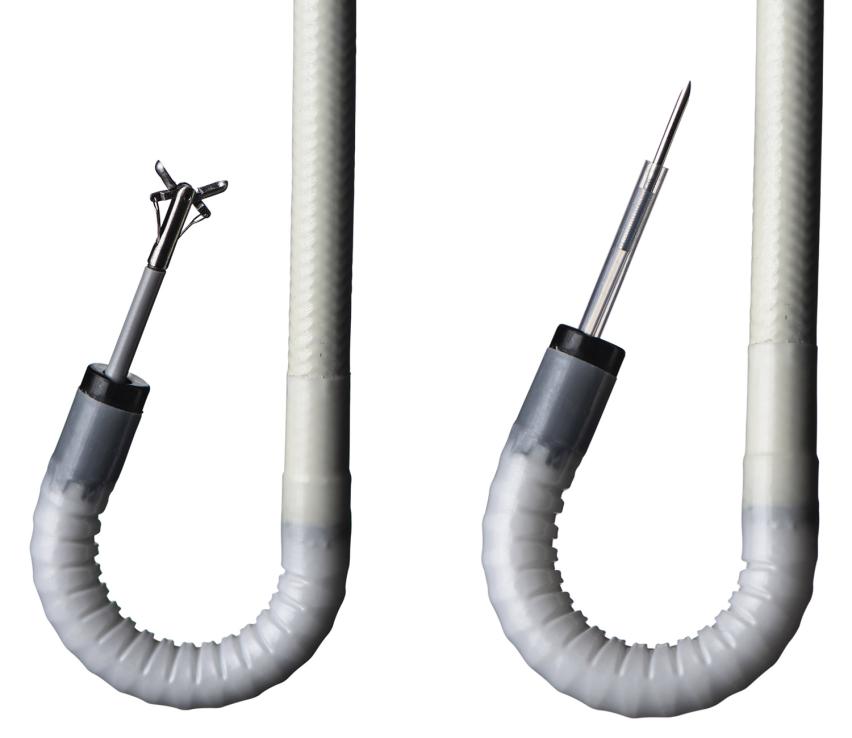 "The aScope 5 has a very small footprint and in a place like the operating room that's always congested, especially for us doing bronchoscopy, we have to maneuver around each other. It's nice to have something that's small and portable, that's just as effective as a reusable scope and from that standpoint we're very excited to have used it in the operating room," said Dr. Ajay Wagh, an interventional pulmonologist in Chicago.
aScope 5 "superior or equivalent" to reusable bronchoscopes
Do reusable bronchoscopes perform better than their single-use counterparts? That's been the conventional wisdom in interventional pulmonology — but new research debunks that myth.
When compared with a reusable competitor as well as other single-use bronchoscopes, the aScope 5 Broncho had more degrees of flexion and extension with all accessory tools, according to a research study by Dr. Jonathan Kurman at the Medical College of Wisconsin and others, to be presented in a poster abstract at World Congress for Bronchoscopy and Interventional Pulmonology (WCBIP) 2022.
"Among the single use flexible bronchoscopes, the Ambu aScope 5 was either superior or equivalent to the reusable flexible bronchoscope, in the most categories," the authors wrote.
New single-use flexible bronchoscopes are a significant advancement over previous device generations, creating new possibilities in the bronchoscopy suite. Ambu's aScope 5 Broncho builds on more than a decade of expertise in single-use endoscopy and stands ready to help with the most challenging procedures.
* Drs. Kurman, Wagh, and Islam are paid consults with Ambu







WEBINAR - Single-Use Bronchoscopes: Ready for Prime Time
Designed for both diagnostic and therapeutic procedures

Endobronchial Biopsy
The aScope 5 Broncho HD System addresses the foundational needs in pulmonology including bronchoalveolar lavage and tissue acquisition with a biopsy forceps up to a 2.8mm working channel.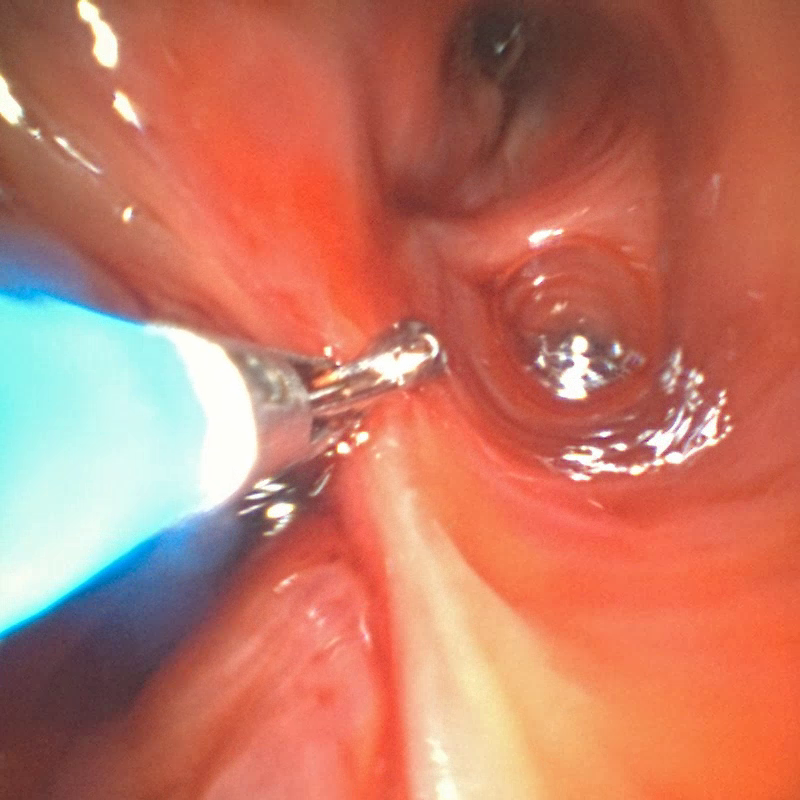 Endobronchial Valve Placement
The aScope 5 Broncho HD therapeutic scope (5.6/2.8) is designed to address the growing needs in interventional pulmonology, which includes managing of patients with severe COPD and emphysema.
Tools with Active Energy (argon plasma coagulation and cryotherapy)
The aScope 5 Broncho HD System is designed to handle the most advanced cases that can challenge the performance of a bronchoscope. The therapeutic (5.6/2.8) and diagnostic (5.0/2.2) scopes are available for interventional pulmonologists to use with active tools.
aScope 5 Broncho HD: Cryotherapy
aScope 5 Broncho HD: Argon Plasma Coagulation (APC)
aScope 5 Broncho HD: Valve Placement
aScope 5 Broncho HD: Rigid Bronchoscopy
aScope 5 Broncho HD: Airway Inspection
aScope 5 Broncho HD: Endobronchial Dilation
aScope 5 Broncho HD: Airway Inspection 2
aScope 5 Broncho HD: Foreign Body Removal - Cryoprobe
aScope 5 Broncho HD: Transbronchial Needle
aScope 5 Broncho HD: Foreign Body Removal - Basket
A PLATFORM FOR EXCELLENCE IN IMAGING
When you connect aScope 5 Broncho to the aBox™ 2, you get a live endoscopic HD image on the built-in touchscreen within seconds. The intuitive user interface is right on the screen next to the endoscopic image, making it easy to maintain focus and control. The touchscreen can be used as either the primary or the secondary monitor, and it adapts perfectly to different needs and room setups.
Digital video output options to display live image on external monitors
Easy transfer of recorded imaging data to PACS using DICOM over Wi-Fi or LAN
Take images and record videos at the touch of a button on aScope 5 Broncho or aBox 2
Full HD LCD monitor for excellent imaging
Advanced image processing, adaptive light control, and true colors
aScope 5 and aScope Gastro Are Here For Cluster Care
Cluster care is ideal when it comes to managing percutaneous tracheostomy and percutaneous endoscopic gastrostomy (PEG)-tube replacement in trauma care. The Ambu aScope 5 Broncho, Ambu aScope Gastro, and aBox 2 HD System make cluster care smooth and efficient. The best time to perform a PEG-tube placement is immediately before or after percutaneous tracheostomy — to minimize patient transfer, limit contact, and save PPE.
5 WAYS AMBU SINGLE-USE EFFICIENCY CAN BENEFIT WORKFLOW IN THE BRONCHOSCOPY SUITE
Are You Ready to Find Out More About the aScope 5 Broncho?
See our product in action! Fill out the contact form below to request additional info or to receive a customized, one-on-one product demo at your convenience from a local Ambu representative. Discover how the Ambu aScope 5 Broncho can deliver reliable performance for you.