aScope™ 4 Cysto
Simplify and Standardize
Your Cystoscopy
Developed by the world leader in single-use endoscopy, the aScope 4 Cysto is a single-use cystoscope that adds to Ambu's impressive legacy of innovation. When combined with the portable aView™ 2 Advance HD monitor, this flexible cystoscopy platform provides an effective solution for procedures across any clinical setting.
aScope 4 Cysto is Portable and Always Available Throughout the Hospital and Beyond
From an inpatient consult to the outpatient clinic, you can take the lightweight single-use cystoscope and portable monitor anywhere, including the emergency room or ICU. No locating and moving a heavy tower – and when you're done, you simply dispose of the scope and move on to the next patient.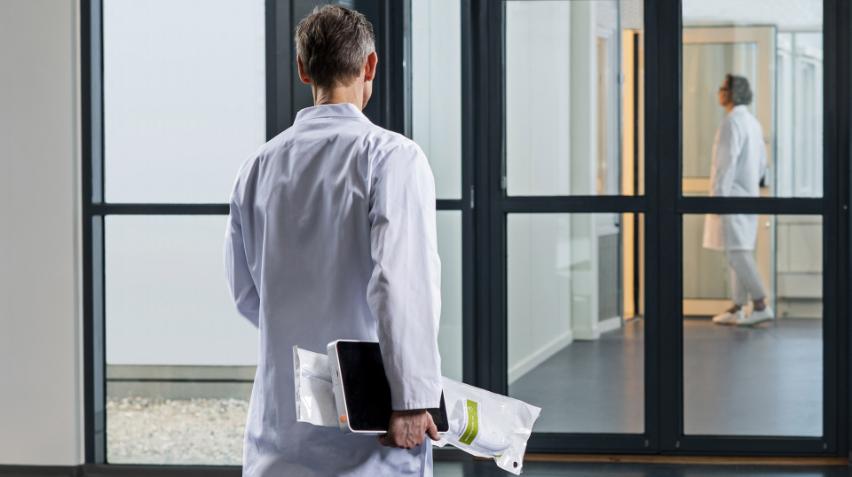 "The disposable, easy-to-use nature of the aScope 4 Cysto has really increased my clinic efficiency."
Dr. Michael Kennelly, a urologist, performs a Botox procedure for an overactive bladder with the Ambu aScope 4 Cysto.
New Research Shows the Impact of Single-Use Cystoscopes on Clinical Workflow
Independent research from Duke University showed that utilizing single-use cystoscopes in outpatient clinic procedures improved clinical efficiency, which in turn led to increased patient volume. In this study, single-use cystoscopes increased patient consults from 12 to 21 per day.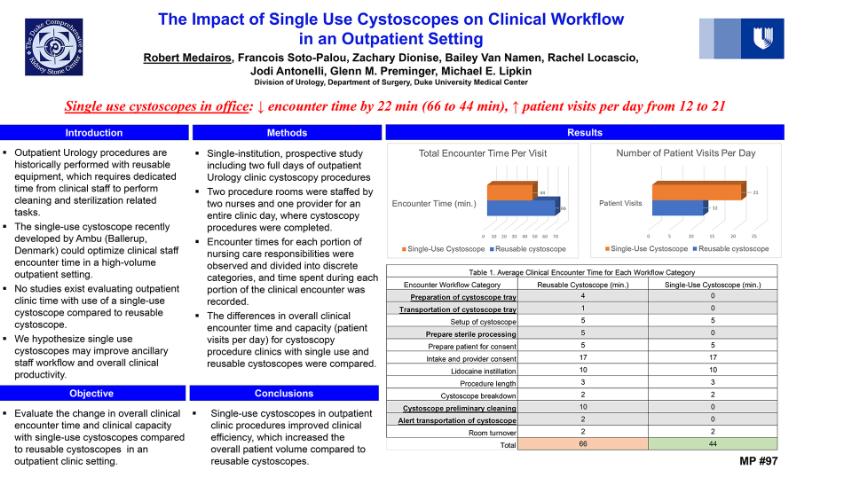 Single-Use Cystoscopes Can Lead to Decreased Costs and Capital Savings
Learn how you can eliminate all planned and unplanned expenditures such as service, repairs, scope capital/loaners, reprocessing chemicals, and transport costs by moving to single-use. Direct your budget to resources that directly streamline patient treatment and revenue.
New Study: Reducing Infection Risk with Single-Use Cystoscopes
New research from the Mayo Clinic in Jacksonville indicates that the use of single-use cystoscopes was associated with fewer post procedure encounters compared to reusable cystoscopes, with a decrease from 7.1% to 2.2%. The study published in Urology Practice also found lower rates of positive urine cultures and fewer hospitalizations, showing how single-use cystoscopes offer advantages in reducing complications following procedures.

Watch David D. Thiel, MD, discuss the background and findings from his study.
aScope 4 Cysto Procedure Videos
Dr. Obi Ekwenna, kidney transplant surgeon and urologist from Ohio, performs a kidney transplant stent pull with the Ambu aScope 4 Cysto.
Dr. Srinivas Vourganti, a urologist in Chicago, performs a difficult catheter placement at a patients bedside using the Ambu aScope 4 Cysto.
Dr. Michael A. Palese, Chair, Dept. of Urology at Mount Sinai in New York, performs a stent removal procedure with the Ambu aScope 4 Cysto.
See the remarkable image quality for yourself as the Ambu aScope 4 Cysto is used for needle injections to treat an overactive bladder.
The Ambu aScope 4 Cysto's exceptional optics and maneuverability are evident in this bladder surveillance.
The Ambu aScope 4 Cysto detects bladder diverticulum.
Request Info
See our product in action. Fill out the contact form below to request a customized, one-on-one product demonstration at your convenience. Discover how the Ambu® aScope™ 4 Cysto can simplify and standardize cystoscopy for you.
.
aCart™ Compact
A modern, portable workstation
Offers convenient storage without taking up a lot of space.